INTRODUCTION
Pacton Technologies provides one stop IoT, home and SME network equipment solution for your industry. Depending on the size and scope of your organization, we have various products and solutions to meet your demands. We provide the optimum ready to market and customized solutions for your organization.
Pacton Technologies started its business operation as a network equipment provider, R&D and manufacturing company in 2019.
We are focusing exclusively on high quality and cost-effective hardware and software development for Telecommunication industries on variety of wireless technologies including 5G CPE, LTE CPE, and WiFi routers. We are advancing on a tremendous pace and with involvement of skilled and experienced people working in the organization. Pacton Technologies is currently doing business in Government, Banking, MNCs, Large Corporate, Telecom and in the Media Sector.
MISSION and VISION
Our Mission is to offer high quality, high standard, and reliable solution to our customers in the ICT industry.
Our Vision is to become the customer first choice regarding the product quality, rapid development, and provider of the latest and the most advanced wired and wireless technologies in the network connectivity arena. Our goal is to be the pioneer provider of variety of the high-quality network connectivity devices and to usher the path to everyone access to high standard, fast and reliable internet network regardless of where they live.
OPERATION MAP
Pacton Technologies Head Office and R&D is located in Melbourne, Australia.
The main production plant, packaging, and distribution have been established in Malaysia. The electronic component procurement and logistics and PCB production is performed in China.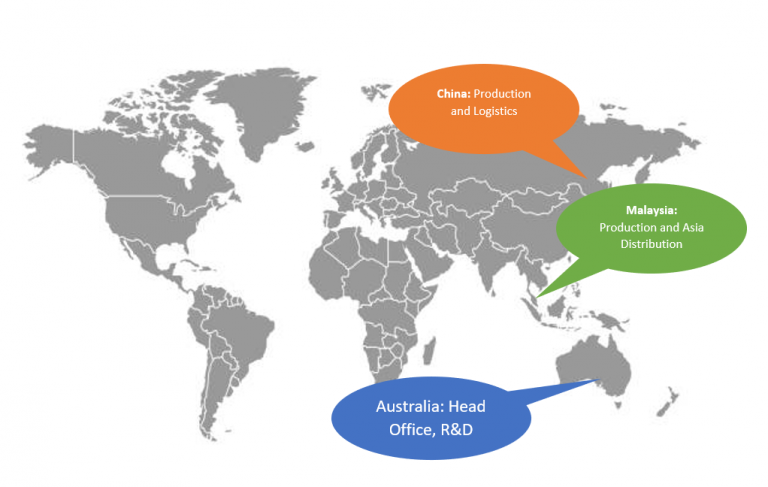 CUSTOMIZED DESIGN
CONSULTATION
We consult for high-end technology implementation according to the clients' requirement. Pacton Technologies offers a full range of consulting services to help analyze customer's intended product specifications for optimum design and development process.
HARDWARE DESIGN & SAMPLING
Our team of experts provides the advanced hardware design and sampling from chipset selection, circuit schematic design and verification, PCB design and verification to prototyping.
Specification analysis
Technology selection
Chipset selection
Mechanical Design
Circuit Design
Prototyping
Standards Complying
CASING & PACKAGE DESIGN, SAMPLING & MOLDING
Next stage of customized design is to make a unique casing according to customer market requirement and taste. We cover all design stages including:
3D Modeling
Case design
Case molding
Case prototyping
Packaging design
Standards Complying
SOFTWARE DEVELOPMENT & CUSTOMIZATION
Beside the hardware design and development expertise, combined with industry best practices, our professional software development team who are expert in variety of software development languages and diverse platforms including C, C++, bash script, java-script, HTML, CSS, Loa, etc. provides the end-to-end software development and customization to be integrated to the customized hardware design.
Embedded Software development
Operating System customization
Device driver development
Standards Complying
MASS PRODUCTION
Mass-production is one the most critical stages to deliver high quality product with target price. We cover all stages of the production to ensure the final product meet all customer expectations in terms of quality, time to market and cost. This demands precise coordination and supervision at every single stage of mass production including:
Product tree diagram design
Material procurement and logistics
PCBA
Product Assembly
Post-production Test and Verification
Packaging
After sale repair and services
AFTER SALE REPAIR & SERVICES
All the products come with full warranty by Pacton Technologies in addition to access right to the products repair and maintenance documents.
AREAS OF EXPERTISE
Hardware Engineering
RF circuit design, implementation, and calibration
Digital/Analog/Mixed Mode circuit design and development
Modular design
High speed bus design
Switching power design
Mechanical Engineering
3D Modeling
Structural Design
Industrial Design
Molding calculations and simulations
Software Development
Linux Operating System customization and development
Linux Driver integration and development
OpenWRT customization and development
WebUI device configuration design and development
Mobile configuration management Application design and development
PRODUCTS CATEGORIES
5G CPE Products
LTE CAT4/CAT6/CAT7/CAT12 CPE Products
WiFi Router Products
IoT Products
ODM Products